Add your debit or credit card information to your mobile device and pay with just a few taps.
Details
Available through Apple Pay® or Samsung Pay® with all Sutton Bank Debit Cards and Personal Credit Cards (not available with Business Credit Cards)
Make purchases quickly and securely with your mobile device
Pay in an easier way — no more counting change or carrying cards
Easily set up payment information
Add multiple cards to your device for extra convenience*
Keep purchases private — card data is never directly transmitted to retailers
Easily protect your accounts if you lose your device
*Please ensure that we have your mobile phone number on our system before loading your card onto your device, so that you can receive the verification text.
To Learn More, see the Apple Pay and Samsung Pay information in the following accordions.
Apple Pay®
Apple Pay
Apple Pay® is now available with all Sutton Bank Debit and Personal Credit Cards. Apple Pay allows you to make in-store and in-app payments easily and securely from your iPhone® or Apple WatchTM.*
How it Works
Security and privacy is at the core of Apple Pay. When you add a credit or debit card with Apple Pay, the actual card numbers are not stored on the device or on Apple servers. When you make a purchase, the Device Account Number, along with a transaction-specific dynamic security code, is used to process your payment. Your debit and credit card numbers are never sent to merchants. To pay in stores that accept Apple Pay, just hold your Apple device near the card reader with your finger on the Touch ID/Home button (or enter your passcode) and wait for the terminal to process the payment. Using Apple Pay on your iPhone, iPad, or Apple Watch is the safer and more private way to pay.
Apple Pay Setup
Setup is easy. Just go to the Wallet app on your Apple device home screen (or go to "Settings"). Tap on "Wallet & Apple Pay", then "Add Credit or Debit Card." Enter your card information, and you're ready to go! You can add up to 8 debit or credit cards to Apple Pay, and then select the card you want to use when it's time to pay.
Touch ID Setup
If you choose, you can authorize purchases with the touch of a finger. With Touch IDTM, your unique fingerprint stored in the Touch ID feature is used to complete the payment. On your Apple device, go to "Settings" then "Touch ID & Passcode." Follow the instructions and you're all set. It's easy, secure, and convenient!
For more detailed information, please visit http://www.apple.com/apple-pay/ .
Samsung Pay®
How to Use Samsung Pay®
You can set up Samsung Pay in an instant.
Activate
Find the app pre-installed on your phone or download it from Google Play™. Then, sign in to your Samsung® account.
Lock Down Security
Scan your fingerprint or iris and enter a PIN so that you can authenticate future purchases.
Add Your Sutton Debit Card and/or Personal Credit Card
Open the Samsung Pay app and tap "ADD> Add a credit card or debit card." Align your payment card inside the frame, and Samsung Pay will automatically detect the card number and expiration date. Enter any remaining required information and follow the prompts through the Terms of Service and Verification steps.
Use Samsung Pay
You can now use your Sutton Bank debit card through your Samsung mobile device wherever you shop.
To learn more about Samsung Pay, visit http://www.samsung.com/us/samsung-pay
Look for terminals that display these symbols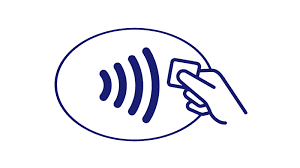 Please ensure that we have your mobile phone number on our system before loading your card onto your device, so that you can receive the verification text.